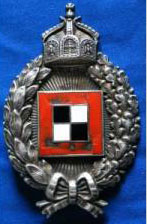 Please be advised that the badge in the photograph was stolen from the Mail between Belgium and Hamburg, Germany somewhere between 8.11.04 and 11.11.04.
The enamel damage on the badge is very distinctive and can lead towards a postive ID.
The badge is maker marked on the reverse with crescent moon, 800 (Silver marks) and Juncker maker mark. The reverse is also ray backed.

If this badge is seen or offered towards anyone, please advise the Hamburg Police Department or send a mail towards: stijnd@gmx.net
Please attempt to recover the badge and get the name of the individual in posession!