New SKF publication – 2005


<![if !vml]>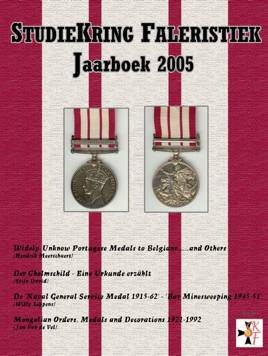 <![endif]>
We are pleased to present this second SFK publication. It is one of our goals at SKF to be able to publish at least one book per year. The reader will notice that, in contrast to our first publication "Militair Ereteken, Decoration Militaire 1873-2004" , this time we have chosen to incorporate several topics into one book. Additionally, the languages vary from subject to subject


The following themes are highlighted in this volume :


* Widely unknown Portugese Medals awarded to Belgians ... and others.


* Der Cholmschild – Eine Urkunde erzähl


* De "Naval General Service Medal 1915-62" - "Bar Minesweeping 1945-51"


* Mongolian Orders, Medals and Decorations 1921-1992


Each of the themes does contain new information on its own specifyed subject and does form a must for interested collectors to read and share.


We are able to present this work in no less than three different languages, namely English, German, and Dutch. We are convinced that, rather than present a barrier to the interested reader


This Volume does contain no less then 92 pages, full with high quality black and white pictures from both the rare discussed awards, award documents, statistics, etc ...


Format : DIN A4
Selling price : SKF members € 15
Non SKF members € 18